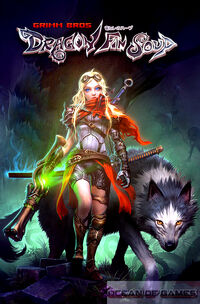 Dragon Fin Soup is an indepdent role-playing game with roguelike elements developed by Grimm Bros. The game is released on PC, Playstation 4, Playstation 3, and Playstation Vita consoles.
Development
Edit
The game is the first title by the independent development studio Grimm Bros. The development studio was founded in March 2013 by Human Head Studios' former COO Ash Montif and by Randis Albion, an artist that previously worked on League of Legends, AquaNox: The Angel's Tears, and Magic: The Gathering.
Development was part-funded through a Kickstarter crowdfunding campaign. The campaign launched in March 2014 with an initial goal of US$24,000 to provide funding the base game. It concluded in April 2014 with $119,719 raised, achieving a stretch goal of porting the game to Sony platforms. As part of a 75-game wave of approvals, Valve Corporation accepted the game to be sold and distributed through their Steam software platform.
Dragon Fin Soup is influenced by roguelike games and uses procedural generation for creating areas of the game. The game has two modes: Story Mode takes place on Asura, a world situated on the back of an enormous dragon-turtle and follows Red Robin, an alcoholic yet cheerful mercenary, who drinks to forget events of her past. The game uses elements from fairy tales including Robin Hood and Little Red Riding Hood. Survival Mode focuses on the players surviving within the game. Players are constrained with perma-death and most survive against more powerful groups of enemies.
A range of activities can be pursued including fishing, crafting, gathering, mining, digging, and cooking. Players have 20 slots in which to store equipment and other useful items. Players can acquire pets to join them in the game. The world includes a varuety of environments including forests, caves, mines, deserts, mansions, castles, and ruins. The climate in the game is randomly generated which affects both the weather and earthquakes in each area.
External Links
Edit